Grateful Patient Making an Impact
Gratitude can be found in the life-long relationships Einstein caregivers develop with their patients. Lynne and Abelardo Lechter and their family are no exception. Altogether, four generations of the Lechter family have received a lifetime of care from Dr. Steven Sivak, MD and their feeling of gratitude is boundless.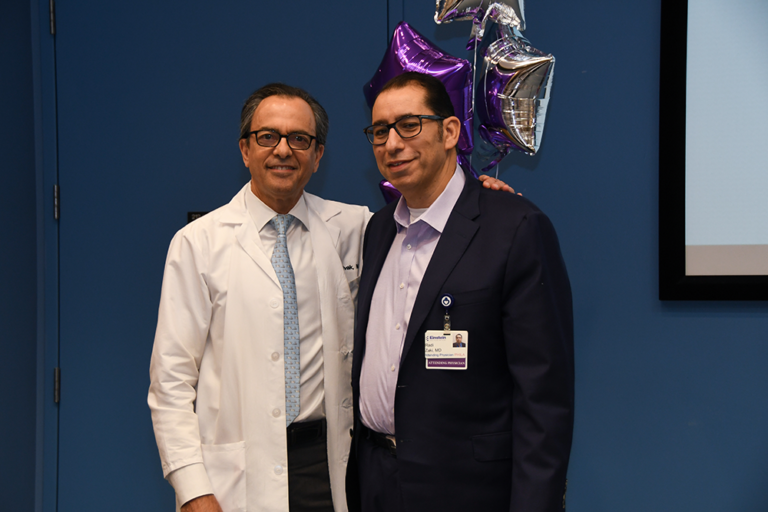 "I say because it is the best care in the city. I love my doctors and I refuse to go anywhere else."
This relationship began with Lynne's parents. Eventually, she and her husband, Abelardo, became patients and this family affair would continue as their daughter became a patient and now, grandson, Max, has continued in the family footsteps of being cared for by Sivak.
"Sometimes people question me why, since I live on the other side of the town, why I go over there (to Einstein)," explains Lynne. "I say because it is the best care in the city. I love my doctors and I refuse to go anywhere else."
"I am thankful to have had the opportunity to care for Lynne's parents and the rest of her family," says Dr. Sivak. "It makes me feel honored that they have the trust in me to choose me as their physician."
Lynne and Abelardo wanted to share their gratitude to Dr. Sivak, not just for the physician he is, but for the person he is as he goes above and beyond to care for his patients. Together, they conceived the Lynne and Abelardo Lechter Award for Physician Excellence given in the honor of Sivak to five deserving Einstein physicians every year at Doctors' Day. Selected through a nomination process by their peers, the recipients of the award exemplify the characteristics of outstanding physician care and compassion the Lechters gratefully recognize in Dr. Sivak.
"We think he is an extraordinary doctor and it's something to be grateful for, besides his competency and skill, but also for all he gives to his patients," she says. "The late-night phone calls, the weekend consultations, he really is one in a million."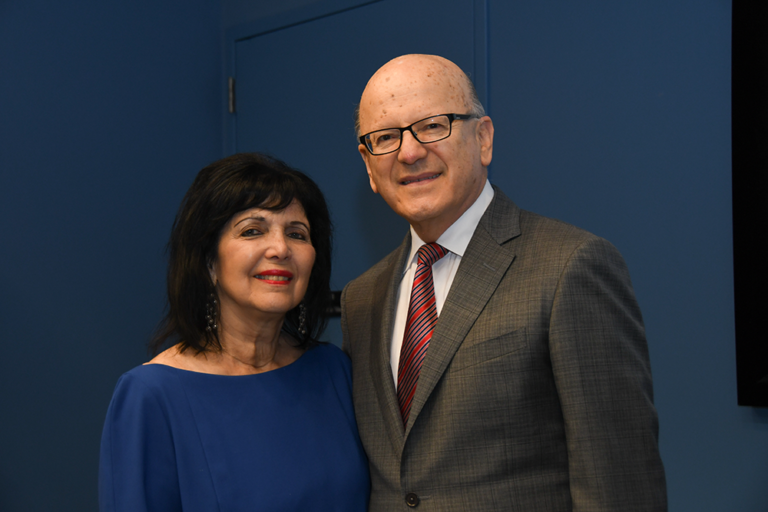 "This has been a very humbling and gratifying experience," says Dr. Sivak. "It makes extremely proud of my profession and the organization for which I work."
For Lynne and Abelardo, the gratitude they feel extends to the many other physicians who have cared for their family over the years and to the office staff members who have also gone out of their way to be responsive to their needs.
"The front office staff in staff in Dr. Sivak's office are wonderful and our experience with the outpatient lab has been nothing short of outstanding," reports Lynne. "And we continue to be so grateful for the wonderful care at the emergency departments at both Einstein Philadelphia and Einstein Montgomery. It is all just part of the Einstein experience we cherish."
"We appreciate that care and the excellence of all the physicians who have gone out of their way to ensure our good health. It makes us so happy to be able to do this in honor of Dr. Sivak and recognize all those physicians who provide the same level of care to their patients."
We love to hear from our grateful patients! Kind words and a little generosity goes a long way to show a caregiver how much they mean to you. Caregivers at Einstein work hard to provide the best possible care. Thank a caregiver today, or read some of our patients' wonderful stories!