MossRehab Announces Partnership with Marcus Institute for Brain Health to Support Veterans and First Responders
Elkins Park, PA – MossRehab, now a part of Jefferson Health, in partnership with the Marcus Institute for Brain Health (MIBH) at the University of Colorado Anschutz Medical Campus are collaborating to launch the MossRehab Institute for Brain Health (MRIBH). As part of ongoing efforts to honor and support Veterans and First Responders, this new initiative is will enhance access to treatment for those who have experienced mild-to-moderate traumatic brain injuries (including concussion) with co-occurring psychological health conditions and support overall health and wellness.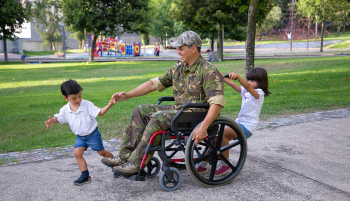 The newly established MRIBH is built on the MossRehab foundation of skill, expertise, and innovation in rehabilitation medicine along with the transformative research of the Moss Rehabilitation Research Institute (MRRI). Supported by a $12.5 million gift, the MRIBH will be a community-based clinical outreach program focused on caring for the needs of Veterans. Designed to meet and address physical, social, and emotional needs and provide support for families, the program builds on the national cognitive and mental wellness model developed by the MIBH.

According to MossRehab leadership, Alberto Esquenazi, MD, The John Otto Haas Chair of Physical Medicine and Rehabilitation and Chief Medical Officer, and Tom Smith, Chief Operating Officer, the addition of the highly specialized and focused programming of the MRIBH will allow for expansion of services to Veterans and First Responders experiencing the very real physical, behavioral, and mental health issues associated with traumatic brain injury, post-traumatic stress, and the other impacts brought on by service in highly-demanding, traumatic situations. Through the comprehensive services of the MRIBH, patients will fully embrace and live the MossRehab mantra of "challenge accepted" and work with a team of clinical and research experts to experience lifelong post-traumatic recovery.
The program will begin seeing patients on the campus of MossRehab in Elkins Park, PA in July 2022. In September, the program will move to its stand-alone home at The Station at Willow Grove. In the first-year service ramp up, 60 Veterans and First Responders will receive comprehensive evaluation and treatment. For caregivers and family members, the MRIBH will offer education regarding the effects of traumatic brain injury, provide access to available resources, and provide guidance needed to support their loved one while taking care of themselves as well. Over the first five years, the program is anticipating serving over 1,000 individuals.
In announcing this transformative partnership, Dr. Esquenazi shared, "MossRehab is uniquely positioned to utilize our strength in clinical care along with innovative research component offered by MRRI to expand and utilize the integrated care models pioneered by the Marcus Institute for Brain Health to provide individualized plans of clinical care for service members suffering from traumatic brain injuries.
Traumatic brain injuries and post-traumatic stress affect nearly 1 out of every 3 military personnel deployed to war zones since 2001. An estimated 30% of our nation's first responders also experience symptoms of depression and post-traumatic stress. Though dubbed "invisible wounds," the changes in psychological health that accompany these conditions have a variety of manifestations, such as depression, anxiety, suicide, and substance abuse, impacting not just the Veterans and First Responders themselves, but their families as well. Tragically, these invisible wounds too often can lead to suicide.
About MossRehab & Moss Rehabilitation Research Institute
MossRehab is a member of the Einstein Healthcare Network, now a member of Jefferson Health. MossRehab provides comprehensive treatment with a team of doctors and therapists working together to create a customized plan for care.
MossRehab programs are regularly recognized for clinical excellence and above-average outcomes. The internationally recognized Moss Rehabilitation Research Institute facilitates the translation of work from the research lab to the bedside and incorporates clinicians on research teams, leading to new advances in neurorehabilitation.
MossRehab owns substantial accreditations and recognition for being both a national and world leader in the field of physical medicine and rehabilitation and are proud to be recognized as one of the nation's best rehabilitation hospitals, as ranked by U.S. News & World Report.
Marcus Institute for Brain Health
The MIBH was started by philanthropist Bernie Marcus, Co-Founder of The Home Depot, and Chairman of The Marcus Foundation.  The Marcus Foundation is a leader in Veterans' philanthropy focused on serving Veterans struggling from the invisible wounds of war.
The MIBH provides specialty care for military Veterans, First Responders, and retired athletes struggling with mild-to-moderate traumatic brain injuries (including concussion) and changes in psychological health. Patients at the MIBH are treated as a person first. Veterans of any discharge status are considered for admission.
This intensive, outpatient program combines the best tools in traditional rehabilitation with complementary medicines modeled after to the National Intrepid Center of Excellence at Walter Reed National Military Medical Center.