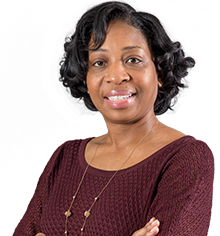 ELICIA
REGISTERED NURSE
As a nurse at Einstein, I aspire toward management, but there are so many leadership skills that need to be taught through educational means. AnnMarie Papa, Chief Nursing Officer at Einstein Medical Center Montgomery, realized how much further nurses with all types of background could progress with support and guidance.
Together, we devised a program to mentor nurses and move them toward management careers. We applied for a diversity grant from the Albert Einstein Society. If we receive the grant, the program will help me learn leadership and management skills from managers in other departments.
I don't really have anyone else in my life saying they see something in me that makes me a good leader. Simply applying for this grant has pushed me out of my comfort zone and encouraged me to try something new.
It was just what I needed—to feel like someone had my back. I hope, with the help of this grant, to be a role model for other people of ethnic diversity within the hospital.
Together, donors and grantees like us are making a difference. We are Einstein.
Elicia Jackson is a Registered Nurse at Einstein Montgomery Medical Center.