CLINICIANS AND PATIENTS COLLABORATE TO EDUCATE AND INSPIRE
The Gift of Shared Experience
No one can ever truly understand the feelings and emotions a person newly diagnosed with a spinal cord injury (SCI) is experiencing. Anger, confusion, sadness, shock and frustration are just a few. Coupled with those feelings are the challenges of coping with a new physical condition and the new routines of care needed on a daily, sometimes hourly, basis.
According to Marni Nutkowitz, PsyD, SCI Neuropsychologist at MossRehab, the people who know best what a person with a spinal cord injury is experiencing, is another person with a spinal cord injury.
"As providers of service, we impart education and help individuals with SCI develop necessary life skills," she explains. "But we can't possibly completely understand their emotional state, or their conception of the future."
The late David S. Loeb, Jr. knew what it meant to live with a spinal cord injury. At 19, Loeb experienced a traumatic spinal cord injury, leaving him with impairment of mobility in all four limbs. For more than sixty years, he proved that a spinal cord injury did not mean a life of limitations, but rather the beginning of a newly adapted life where all things are possible.
Empowering others with spinal cord injuries was a passion for David and his late wife, Barbara. Thanks to the outstanding care he received at MossRehab for many years, the Spinal Cord Injury Program was the beneficiary of their generosity enabling the program to provide enhanced treatment options through programming and advanced equipment.
David and Barbara lived with, and grew to understand, the physical and emotional challenges that come with a spinal cord injury and believed that education was essential. To help support the education provided by the spinal cord injury team, the Loebs commissioned a series of educational videos which can be accessed by patients and their families during their inpatient stay at MossRehab and beyond.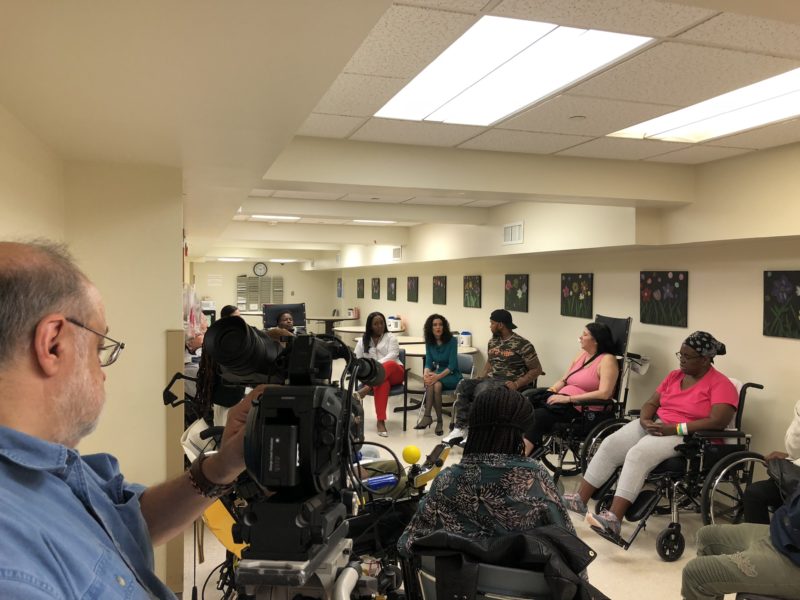 "My father and mother understood the importance of having a good team around you, but also knew that persons with an SCI need to be active participants in their own care," explains Moore.
Thus, was born the "Living with a Spinal Cord Injury" video series.  The educational videos add yet another dimension to the daily education provided to patients and families during rehabilitation. The series features individuals with SCI and caregivers who face and rise above the daily challenges of living with a spinal cord injury. For Danny (last name omitted to protect confidentiality), a spinal cord injury was never part of his plan. But, as he says, "They always told me God would never give something so bad and so horrible to someone who can't handle it."
The nine videos in the series, so generously funded by the Loebs, feature persons with spinal cord injury in their homes and usual environment living their lives in new ways. Showcasing proper skin care, bladder and bowel care, breathing, intimacy, and emotional health, the patients and their families not only demonstrate how to live with an SCI, but also how to get on with living.
"It is often only through exposure to the experiences of others that newly injured individuals begin to realize that they are not alone," explains Nutkowitz, "and that living a productive life after SCI is within their reach.  As with any traumatic event, to be able to relate to someone who has successfully navigated their way through it, is invaluable."

The videos will live online and serve as a resource for not just MossRehab patients, but for the hundreds of thousands across the country and around the world who experience a new spinal cord injury every year. The videos serve as a reminder and reinforcement of the things learned while in recovery.
"Dealing with a devastating diagnosis like an SCI takes time," reports Bryan Webster, MPT, ATP/SMS, SCI Physical Therapist. "These patients and their families are not always ready to learn all they need to know. Having these videos will not only give them the knowledge to do what we as providers and therapists do, but they will also be able to do it for themselves."
Susan Moore and her sister, Judy Felix, and their brother, David, know their parents' passion has made, and continues to make, a difference in the lives of many. Moore shares, "My dad would always say, 'Learn about the life you have now. Do the most you can with the abilities you have. Accept that life and embrace it.'"
For more information about how you can make a difference in the lives of patients at MossRehab, please contact Rejoice Jula at rejoice.jula@jefferson.edu or 215-456-7200.