GRATEFUL PATIENTS MAKE AN IMPACT
SHARING CARE AND COMFORT ONCE RECEIVED
One can never imagine how the events of a day can turn on a dime and change your life, forever. For 25-year-old Blair Berman, this reality hit her head on when her life unexpectedly changed on May 12, 2015.
The Mother's Day weekend had come and gone, and the then 23-year-old Blair was headed back to her life in New York City after visiting with her parents and brothers at their home in Gwynedd Valley. No one knew, as they dropped Blair at 30th Street Station to board an Amtrak train to New York's Penn Station, that her life and theirs were about to change dramatically.
Blair and Einstein had no idea that events about to transpire would connect them in a way which would make a difference in many lives.
"I was connected with Einstein after being in a serious train accident and brought to Einstein Medical Center Philadelphia," recalls Blair. This train accident was the serious Amtrak 188 derailment which occurred in Port Richmond, killing eight passengers and injuring hundreds.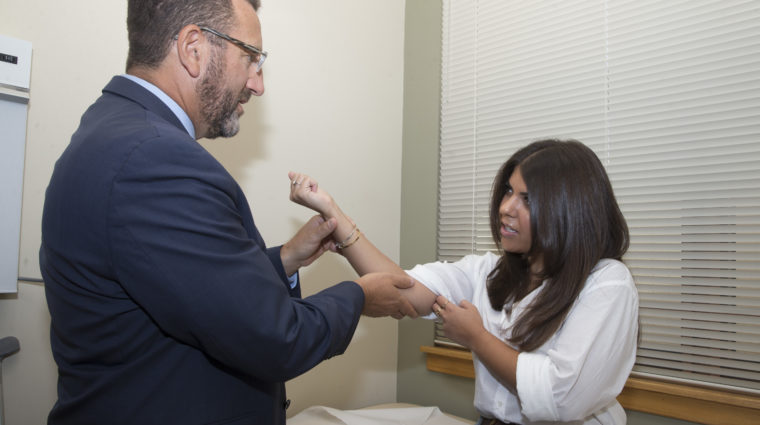 Blair was thrown from the first train car. Anthony Ndu, MD, orthopedic surgeon, was the first Einstein Philadelphia physician to assess her injuries upon arrival. "I had been at the hospital for another procedure and when I heard about the train accident I decided to stick around in case I was needed," he recalls. "She had a very serious foot injury where her calcaneus (heel) bone was fractured in several places. Her elbow was also broken in several places. These were significant and challenging injuries."
Blair and her parents, Bryna and Fred Berman, soon learned that the nature of her injuries would require multiple surgeries and extensive rehabilitation. "It was a difficult conversation to have with Blair and her parents," explains James Raphael, MD, Chairman, Department of Orthopedic Surgery at MossRehab. "They were all surprised by the amount of surgery she would require, the duration until she was really healed and how much work she was going to have to do to recover."
Several surgeries at Einstein Philadelphia, a two-week stay at MossRehab, an entire summer in a wheelchair, and countless hours of inpatient and outpatient physical and occupational therapy over more than a year have helped Blair recover. Along the way, she and her family were connected not only with Drs. Ndu and Raphael, but many nurses, therapists and Einstein staff.

"Getting her back to where she was before the accident was a long process," recalls Blair's mother, Bryna. "I had never experienced anyone with such significant injuries before, it was amazing to see what can be done orthopedically. And for what was done for Blair."
"They want you to get better, to feel the best you can and have the best outcome you can possibly have," says Blair. "Everyone is very positive, they won't let you think negatively or let you believe that you can't accomplish something."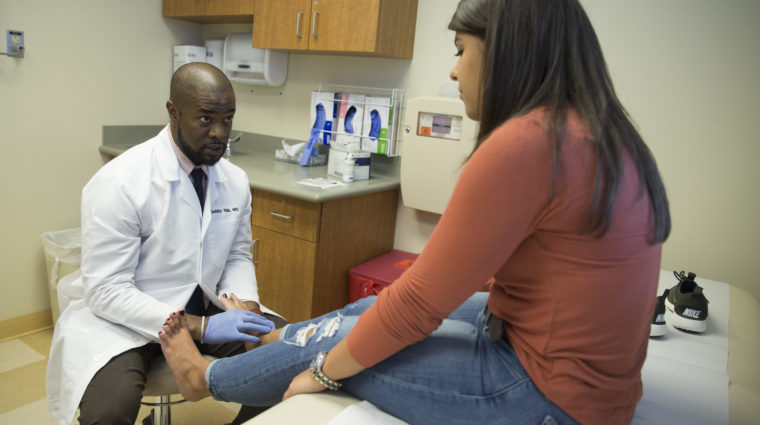 Blair and her family wanted to do something to thank the staff at MossRehab for all the expert care and compassionate attention they received from the minute she was brought to Einstein Philadelphia's emergency department until the time she was discharged from outpatient rehabilitation at MossRehab almost two years later. As grateful patients, they decided the most appropriate way to thank all the caregivers, especially Drs. Ndu and Raphael, was to make a gift that would assist them in the work they do and impact the lives of others. Their support of MossRehab's Compassionate Care Fund and The Department of Orthopedics is already making a difference in the lives of patients who have experienced serious and traumatic injuries.
Blair explains the thought behind the gift. "I had a really positive experience and outcome. We just want other people, whatever trauma or injury they are going through, to have as positive an experience and get the care they deserve."
"This gift allows us to extend our care and assist others in accessing this level of care," says Dr. Ndu. "It is humbling and we are grateful."

Dr. Raphael sees Blair's recovery as a team effort. "If we stick together, work together and have the best team, we are going to get the best outcome we can."
For Bryna, this is about her daughter and the remarkable recovery she experienced. "It was a very serious injury and the best outcome happened and it was because of Drs. Raphael and Ndu and their team. We are just very, very grateful."
Perhaps it was a life-saving procedure or a lifetime of routine exams that have made a difference in your life. If you would like to honor the care you received from an Einstein caregiver, please contact Tiffany Andrews at 215-456-3264 or Tiffany.Andrews@jefferson.edu.