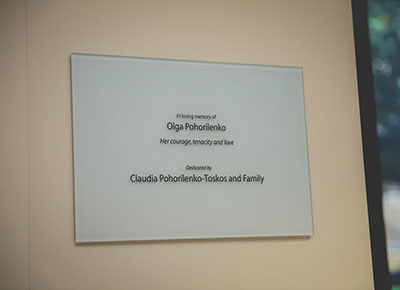 The beautiful plaque inside the Marion-Louise Saltzman Women's Center commemorating the gift honoring the life of Olga Pohorilenko.
Sometimes, the bond between patient and caregiver transcends a "doctor-patient" relationship. Sometimes, the care a physician, nurse or therapist provides goes above and beyond in a way that leaves a lasting and indelible mark of comfort during a time of uncertainty, confusion and anxiety. Unbeknownst to the caregiver, they have created a bond. For them, it may be all in a day's work, but for the patient and their family it is so much more.
When Olga Pohorilenko was diagnosed with breast cancer, her daughter, Claudia Pohorilenko-Toskos, jumped into action to help her mother navigate the complexities of her medical care. "My mother was initially diagnosed with breast cancer in 2004 and she fought this disease with every ounce of energy she could muster," she says fondly. "She knew what it was like to fight for your life and she was very focused on trying to make that fight easier for others."
Joining them on this journey was Lisa Jablon, MD, FACS Director of the Breast Health Program at Einstein Medical Center Philadelphia. "Olga was special, you knew it from the moment you met her," Jablon recalls. "As a breast surgeon, you get to know people over time and it was my privilege to get to know Olga and her family."
Dr. Jablon was with us pretty much every step of the way and we are so grateful for the care and support she gave my mother and our family," says Pohorilenko-Toskos. "She was there to not only provide sound medical advice and care, but she was there to explain what we didn't understand, answer questions on the weekends, and address not only my mother's physical needs, but the emotional needs of all of us who loved her."

This care made a lasting impact. "She (Dr. Jablon) basically became an extended member of our family."
It was through her own experiences that Olga became very concerned about others facing a similar diagnosis. "My mother was always very interested in how treatments were evolving and how things could be made better for women as they were fighting this disease," explains Pohorilenko-Toskos. "The options for better diagnosing and treating this disease grew exponentially from the time my mother was diagnosed and over her almost ten- year battle. We both became very focused on how to make sure other women had access to these innovations."
Cancer eventually claimed Olga's life, but the relationship developed between her family and Dr. Jablon would lead to a partnership that has brought life to Olga's legacy. A legacy which is already changing lives.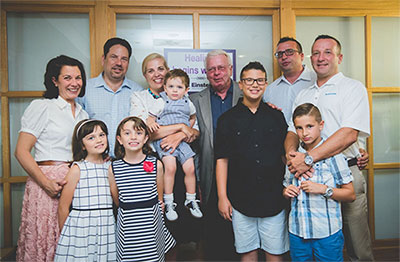 The Pohorilenko Family gathers to celebrate the life of family matriarch, Olga Pohorilenko. Her daughter, Claudia Pohorilenko-Toskos, spearheaded the family's efforts to raise the funds donated in her mother's name.
In honor of Olga and to show their overwhelming appreciation for the care Dr. Jablon provided during her life, Claudia and her siblings decided to raise funds to donate to Einstein's Breast Health Program. When approached with this idea and asked what the money could be used for, Jablon knew exactly what she wanted to help improve her ability to treat women with breast cancer.
With the generous support of the Pohorilenko Family, Einstein Medical Center Philadelphia purchased the MarginProbe® System and became the first hospital in Philadelphia to offer brand-new technology to enhance the care they provide their patients.
"When surgeons perform a lumpectomy for breast cancer, a rim of normal tissue is removed around the tumor called the margin," explains Jablon. "When margins around the tumor show no cancer, the margins are described as clear or negative. Having a clear margin is an indication that the cancer has been completely removed."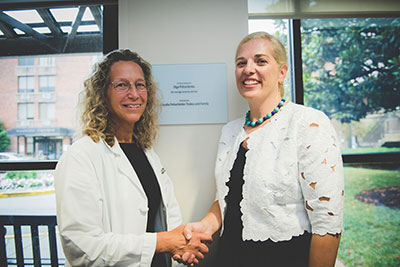 Lisa Jablon, MD, Director of Einstein's Breast Health Program, thanks Claudia Pohorilenko-Toskos, for the family's generous donation which facilitated acquisition of the MarginProbe® System.
She goes on to explain, "This technology helps surgeons learn the status of the margins before the lumpectomy is completed. In this way, we can remove tissue in one surgical procedure, hopefully avoiding the need for a second surgery."
Jablon is thrilled to have this new technology to offer the women seeking care at Einstein, and the Pohorilenko Family is thrilled to have been able to make bringing this technology to Einstein possible. "
This is exactly what our goal has been from the beginning – to inspire innovation," says Pohorilenko-Toskos. "We are so grateful to Dr. Jablon for the care she provided our mother, and for helping to fulfill her legacy of providing cutting-edge technology in the fight against cancer is gratifying. Our hope is that many women benefit from this technology and improve their chances of a happy and healthy future."
If you would like to honor an inspired caregiver, please contact Mary Shaffer at 215-456-7236 or shafferm@einstein.edu.